Introducing our Dog Is Good super food topper: Bolo Broth.  We are excited to announce this broth mix and gravy food topper for your dog.  Of course, this has been Bolo tested and approved! The new Bolo Broth is for bone, joint and mobility support of your canine best friend.
What is Bolo Broth?
Make your dog food a super food! A holistically crafted, healthy solution for picky eaters. In addition, the broth mixes fast. It is an excellent source of protein, antioxidants, electrolytes & more. Bolo Broth enhances any pet food with a unique combination of whole superfoods and serious functional supplements while still acting like a "comfort food" for dogs. Subsequently, just add water and Bolo Broth instantly makes broth or gravy!
Why Bolo Broth?
Supports Bone and Joint Healthy (includes Glucosamine, Chondroitin, and Bioactive Turmeric)
Natural Nutrition and Energy (triple microbiome support with probiotics, prebiotics, and digestive enzymes)
Healthy Solution for Picky Eaters (includes whole superfoods, but acts like comfort food)
What's in Bolo Broth?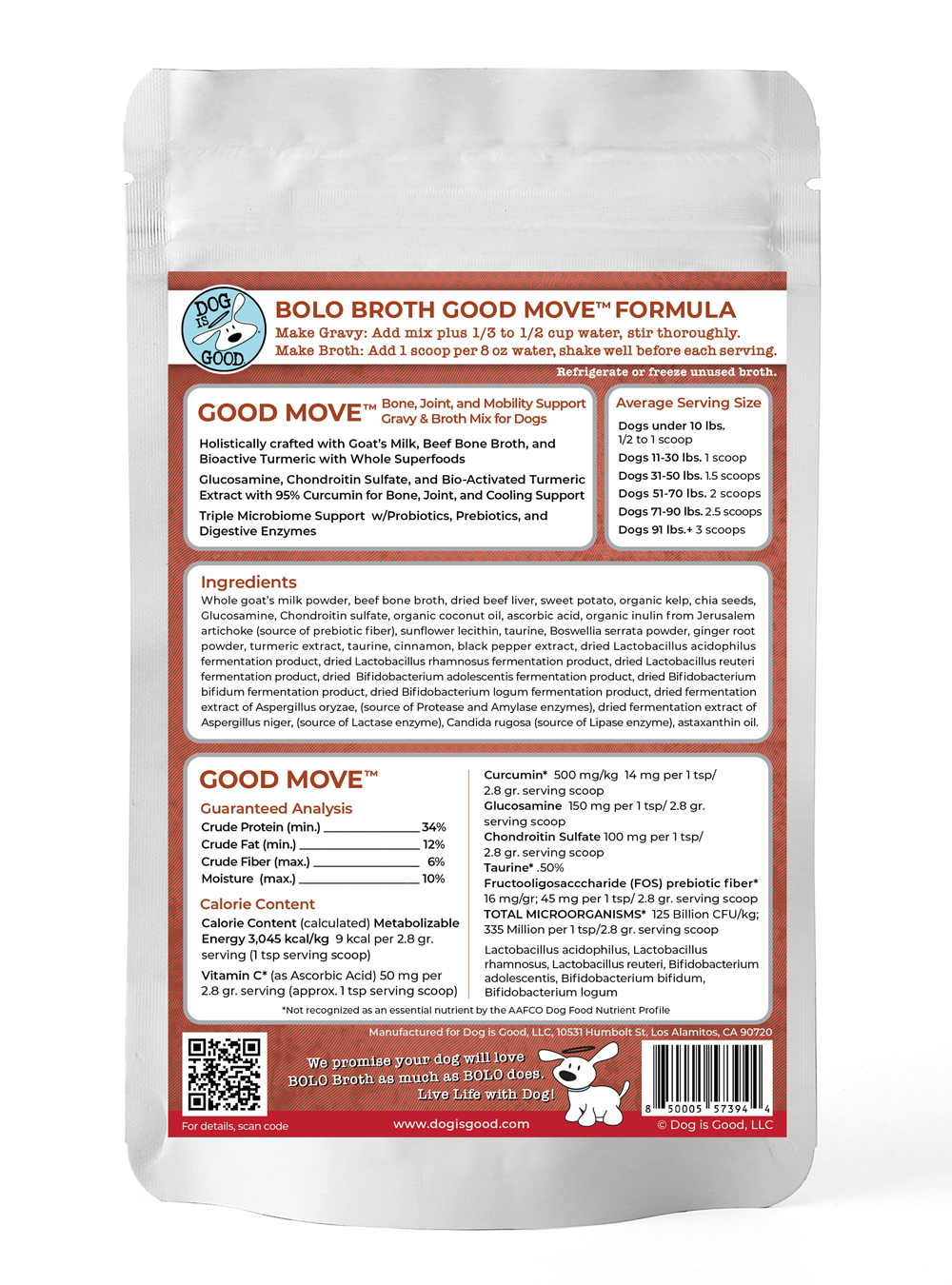 Holistically crafted with Goat's Milk, Beef Bone Broth, and Bioactive Turmeric with Whole Superfoods.  Bolo Broth is also formulated to make food more palatable enticing even the pickiest eaters to completely finish their meals. Moreover, it is a holistic powdered mix that combines instantly with water to make a healthy stand alone energy broth or a rich gravy that transforms any pet food into a healthier, more digestible, and more delicious meal. 
How do I use Bolo Broth?
Specifically, Bolo Broth works with dry kibble, freeze dried dog foods, frozen raw diets, and homemade dog diets. Therefore, the broth can be used as a food topper. However, this superfood is best mixed with water to create a broth. For example, the powder dissolves readily, it can be stored (refrigerated), and it easily combines with dry dog food.
Serving Suggestions:
Dogs 90 lbs +: 3 scoops
Dogs 71-90 lbs: 2.5 scoops
Dogs 51-70 lbs: 2 scoops
Dogs 31-50 lbs: 1.5 scoops
Dogs 11-30 lbs: 1 scoop
Dogs under 10 lbs: 1/2 -1 scoop